A Touch of Cloth III
ICM Studios are proud to have worked on four VFX shots for the hit TV-detective parody show A Touch of Cloth, written and produced by Charlie Brooker and directed by Jim O'Hanlon. Iskander Mellakh, Creative Director & VFX Artist at ICM Studios, worked with visual effects company LenscareFX to produce the VFX shots used at the end of series three of the spoof detective drama A Touch of Cloth, which returned to screens on the 9th August 2014.
A pithy parody of police procedural programmes, A Touch of Cloth takes all of the classic crime drama clichés and turns them on their heads. Cleverly poking fun at previous police dramas, A Touch of Cloth takes satirical sideswipes at all the traditional tropes used in other crime programmes. Starring John Hannah as the suitably rugged and maverick cop DCI Jack Cloth, with Suranne Jones as his sidekick DI Anne Oldman, A Touch of Cloth is packed with great gags and tongue-in-cheek comedy characters.
The third series of A Touch of Cloth has also added a new star to its cast, Karen Gillan, already famous for her role as Doctor Who's companion Amy Pond. Gillan is also currently starring as Nebula in Marvel Comic's 2014 summer blockbuster film Guardians of the Galaxy, on which Iskander Mellakh also worked as a Layout TD at The Moving Picture Company.
Newblood - Karen Gillan
Karen Gillan plays A Touch of Cloth's rookie recruit Kerry Newblood, who is at the centre of some of series three's dramatic scenes. ICM Studios was briefed to create VFX shots for scenes in which lightning is seen shooting out of Newblood, impacting on Jack Cloth and knocking him over. ICM Studios' Iskander Mellakh worked on four shots, developing the shots all the way from the initial concept to the final shot. All VFX work was carried out by Iskander Mellakh, apart from roto on the eyes on the first shot in the sequence and roto on the hands and eyes on the third shot.
VFX
The original plates were provided without any tracking markers, so when creating the shots a little improvisation was needed. Roto animation was done on Cloth in Maya to provide the placement of Cloth in 3D space so that there was a good reference to where the lightning would impact. Dust and smoke was added to the character of Newblood using Maya Fluids, while N-cloth was used to create the simulation of the paper floating away after being impacted by the lightning. Impact sparks were added using Maya. Maya, Renderman, Mental ray and Nuke were used to create the shots with a little help from Genarts Sapphire plug-ins and Fracture FX.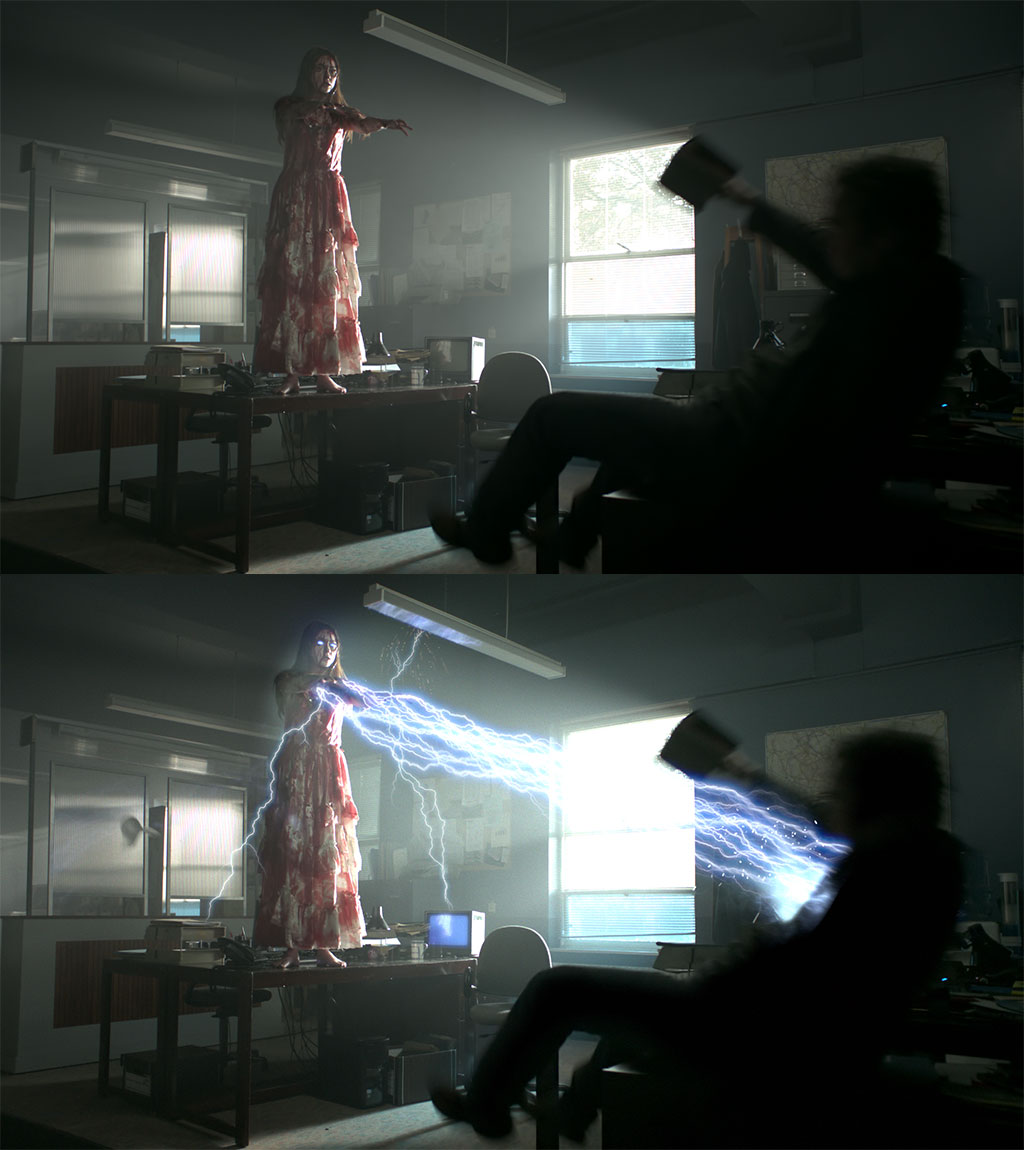 Credits:
Companies: Sky / Endemol UK
Director: Jim O'Hanlon
Executive Producer: Charlie Brooker
Producer: Mat Chaplin
VFX Supervisor: Sascha Fromyer (LenscareFX)
VFX Artist: Iskander Mellakh (ICM Studios)
Article by Jessica Whyte 11/08/2014