Iskander Mellakh - Creative Director & Visual Effects Artist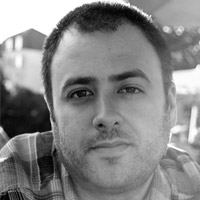 A London & South East based Generalist with experience in feature film, TV, and commercials. Recently completed work on Marvel's Guardians of the Galaxy and Disney's Maleficent at MPC.

2012 saw Iskander help ICM Studios complete 16 VFX shots utilising Maya, Nuke and PF Track on the Budget Feature Film Nightmare Hunters by Ewan Gorman. Also in 2012 Iskander completed 4 VFX heavy shots on the TV Parody 'A Touch of Cloth' working alongside LenscareFX.

Between 2010 and 2012 Iskander lead a small team of Renderers on the animated children's TV programme 'The Adventures of Abney and Teal'.

Other previous experience's includes working as a Technical Director on the animated Short Film 'Devils Angels and Dating' by Michael Cawood, working on a music video at Passion Pictures and working within the layout and crowd departments at MPC.
Iskander Mellakh's showreel
Iskander Mellakh's social network